Conservative Party Conference blog by Charles Begley, Executive Director of London Property Alliance (WPA + CPA)
Under our joint London Property Alliance brand (for the work conducted for both WPA and CPA), this week it was the turn of the Conservative Party conference in Manchester to play host to our roundtable, exploring who is central London for, and what it needs from the next London Mayor.
This piece of research, conducted by the independent think tank Centre for London and sponsored by the Alliance among others, will look at how civic leaders balance the needs of local residents with other users of this global business district.
On the face of it, it may seem odd to worry about the UK's most successful economic area, responsible for one third of London's jobs and nearly 10% of the country's economic output, sitting in Manchester where the challenges facing other parts of the nation are also being aired.
But that is exactly why we should discuss it. Its role as a driver of growth and prosperity for the capital, and country, cannot be underestimated and should not be taken for granted. There were too many excellent contributors to the discussion to list, but Prof Tony Travers of LSE is always invaluable in these debates. Elected representatives also included, Cllr Tim Barnes from Westminster City Council; Tom Sleigh, from the City of London Corporation; and the leader of RBKC, Cllr Elizabeth Campbell.
The research will be published in early 2020, and we will ensure CPA and WPA members are kept abreast its findings, which will be released in the run up to the London Mayoral elections.
Talking of elections, #CPC2019 feels very much like an election. We have had multiple policy announcements from the Government, and despite the conference slogan of 'Get Brexit Done', a refreshing drop in the amount of air time about Brexit. Indeed, much of the conversation has been on devolution.
Our friends at Centre for London held a fringe roundtable with The Northern Powerhouse Partnership looking at how English cities and regions can work together to make a powerful case for devolution. Hot on the heels the think tank Localis also hosted two events exploring the future for devolved urban government. Speakers at these included the Minister of State for Transport, George Freeman MP, Lord Kerslake, Chair of the 2070 Commission, Mayor of Cambridgeshire, James Palmer, Cllr James Jamieson, Chair of the Local Government Association, and Jackie Sadek, CEO of UK Regeneration.
What all speakers had in common was a desire to empower local areas to deliver for their residents. We live in one of the most centrally managed economies in the developed world which is stifling innovation, and local solutions to local problems. For central London, being able to raise the revenue to invest in its areas would be transformational.
Most of all, it would also help councils deliver housing, and Jackie was even more vocal than usual at a suggestion of a Cross Party Concordat on Planning and Housing which any Government, regardless of political hue, would have to take notice of. She tasked the LGA to deliver on that, so watch this space.
Conference season is an opportunity for us at the Alliance to get out of our Westminster and City bubbles and speak with a different range of people both in and out of our areas. Talking to those we know well in a different setting does also seem to open up the conversations even further.
The issues facing other areas may not all be the same as those facing central London, but we all share the same goals of improving our areas, and securing #GoodGrowth.
The highlight at all three party conferences is always the City of London dinner, which attracts senior government representatives as well as leading politicians from across the capital. WPA Chair Craig McWilliam, CEO of Grosvenor Britain & Ireland, was engrossed in conversation with the leader of veteran Council leader Ravi Govindia CBE, a long term friend to the WPA.
My table host, none other than newly appointed Sheriff Chris Hayward, who forged very close links with the CPA during his three year tenure as Chair of the City Corporation's Planning & Transportation Committee, was, as ever, candid and forthright in his defence of the City and its institutions, which have been criticised by Labour on 'ideological grounds'.
The relatively muted reaction to a thumping, electioneering,and in parts politically tribal, speech by junior Justice minister Chris Philp MP, served as a reminder that most serving members of the City Corporation are ostensibly business people with an interest in politics and public service, sitting as Independents. Those members with previous links to a particular party invariably rein in their political instincts in order to serve the City. It's a unique arrangement which has served the City, and by extension the country, well for hundreds of years. Getting the message across that the City Corporation is a force for good is now clearly high up on its agenda.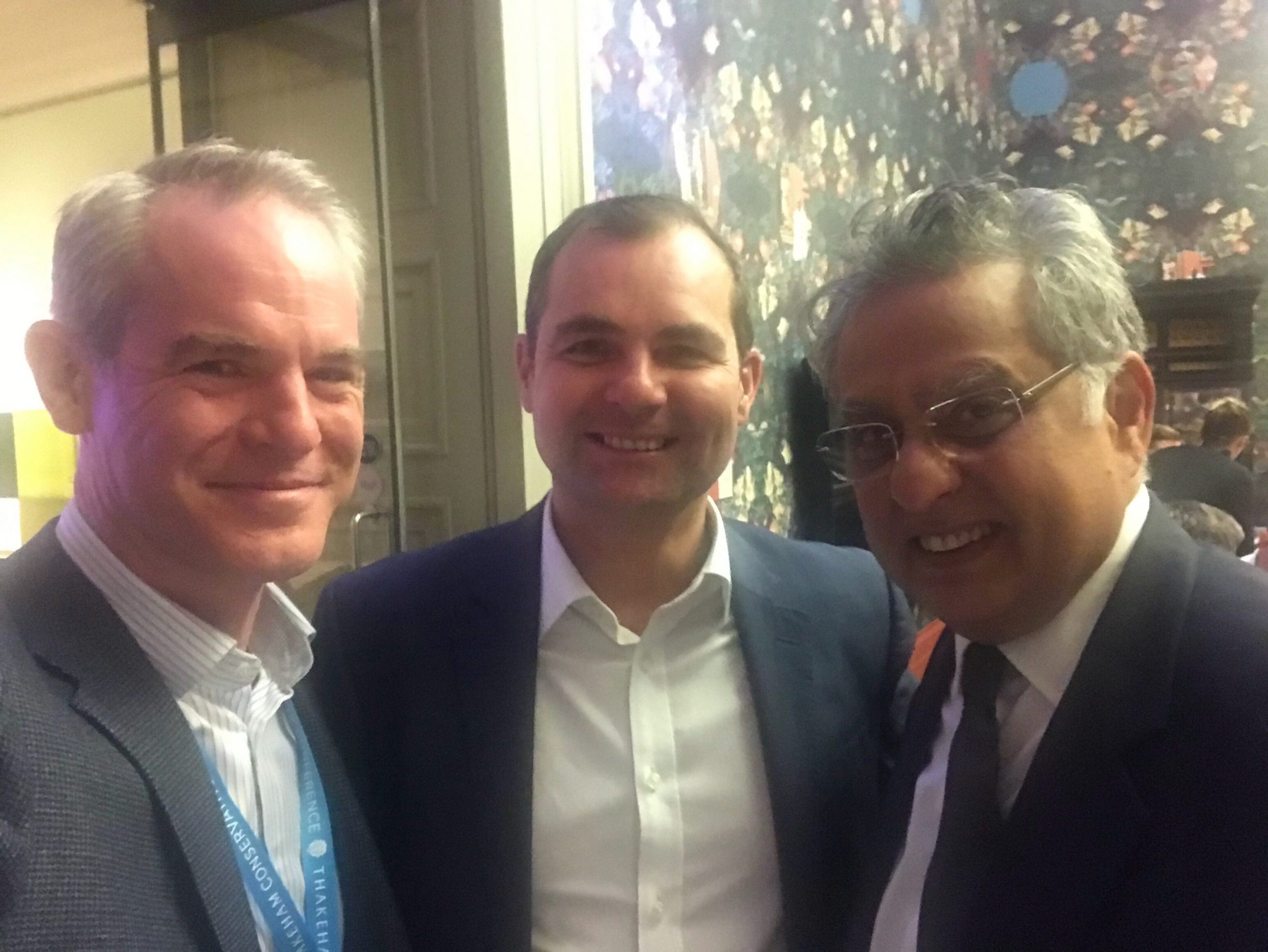 Craig McWilliam (Chief Executive of Grosvenor GBI & WPA Chair), Charles Begley (Executive Director of London Property Alliance) and Cllr Ravi Govindia (Leader of Wandsworth Council)
Read our Labour conference blog here.
Read our Lib Dem conference blog here.