Covid-19 has had a drastic impact on restaurants across London leading many restauranteurs to seek new and innovative ways to sustain their businesses during these times.
Bancone is a great example – this modern pasta restaurant that has two West End premises: one on William the IV Street and the other on Lower James Street, Golden Square, Soho.
As with restaurants across the country, lockdown forced Bancone to close the doors to both restaurants in March. The business had gone from two award winning West End restaurants where you would struggle to get a booking, to closed doors and no income. They needed to carefully examine their business model, all of their fixed costs and pivot hard to meet their customer's new needs.
Pasta in the post
When lockdown forced them to close, the restaurants, which usually served handmade pasta every day, did what they could to adapt.
One of which was the launch of Bancone at Home – a range of pasta boxes showing customers how to cook their favourite Bancone dishes, including Spicy pork & n'duja ragù or their Bucatini cacio e pepe. Each comes with a recipe card, together with a few deli items and an Italian wine list with some handpicked recommendations to accompany the dish. They proved to be very popular and Bancone has chosen to continue with the concept now that lockdown restrictions have lifted. At the start they aimed to deliver only within 5 miles of their restaurants – now you can enjoy the pasta all the way from Oxford to Brighton. 
Flinging open the doors
With lockdown restrictions eased, the restaurant on Golden Square relaunched on 28th July. William IV Street, Bancone's first restaurant, is a tight site and was difficult to operate and keep responsible social distancing in place. But with trade improving in Golden Square and a few months of refining best practice, the William IV Street restaurant is now open and trading.
Although demand has been better than expected, sales remain slow to recover and both restaurants have had to substantially reduce their covers to keep in line with social distancing guidelines and keep customers safe.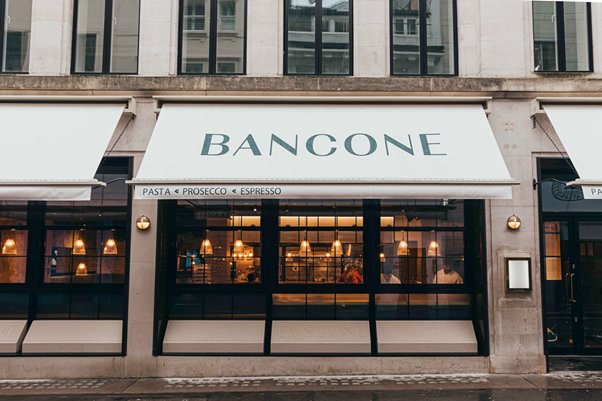 Bringing the life back to the West End  
As Bancone and Soho emerged from lockdown, trade was slow and it was difficult to see how life would recover to some degree of normality.
Eat Out to Help Out has been a brilliant initiative. It not only brought people to their restaurants, but also to the wider West End, making people challenge their preconceptions and fears of the new normal in city centres. Combined with the relaxation of licencing rules which pedestrianised a number of streets allowing restaurants to have outside table and chairs – something that Shaftesbury championed – not only has it helped restaurants who were facing serious financial difficulty operate, it has also brought life back to the streets of the West End.
However, we know that these initiatives are temporary and aimed to help struggling operators in challenging trading conditions. With autumn on its way and new restrictions announced, the horizon looks just as challenging as coming out of lockdown.
There are some easy initiatives that Westminster could help with. Social distancing and its impact on the capacity of restaurants is expected to continue for the foreseeable future, so restaurants like Bancone have to find a way to serve more people to keep afloat. We spoke with Will Ellner of Bancone and asked him what he would ask Westminster City Council for, and the solution seems clear – extra capacity and extra time:
"Extend the pedestrianisation of Soho and Covent Garden alongside a relaxation of premises licences so businesses can open more flexibly. With social distancing in place, extending opening hours and the additional covers we have outside is the key for us to serve the same amount of covers as we did pre-Covid."
We are delighted Westminster Council agreed to extend the schemes supporting al fresco dining until the end of October. Innovative solutions to allow restaurants like Bancone to continue to safely welcome customers will be vital to this sector over the more difficult winter months. This extension is a great start, but we all need to continue work to together to find further ways to support the West End's hospitality businesses and will continue to work with the Council to identify further supportive measures.
Andy Hing, Senior Portfolio Manager, Shaftesbury; WPA NextGen Committee
Emma Matus, Senior Restaurant Portfolio Manager, Shaftesbury