Our engagement since lockdown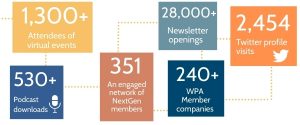 The events of 2020 have highlighted the need for Central London's property industry to have a clear and unified voice more than ever before. Public and private sectors alike acknowledge that recovery from the impacts of Covid-19 cannot happen in silos and will require continued collaboration and communication. Our work representing WPA members is critical for giving Westminster's property sector a voice as the capital rebuilds itself and we hope members have found our work engaging, meaningful and most of all, impactful.
From the outset of the pandemic we have engaged with local, London and national politicians and policy makers, making the case for central London in our correspondence to ministers and raising awareness of key issues through consistent media coverage. You can see some of our lobbying here.
We have also worked tirelessly to represent members during the Examination in Public (EiP) on the Westminster City Plan, submitting several hundred pages of evidence-based material from the point of launch of the Draft Plan, engaging with the Planning Inspector and Westminster City Council throughout the process. You can see all our submissions here.
We continue to engage on multiple emerging policy issues: from the Government's Planning for the Future White Paper to the GLA on Intermediate Housing, business rates to busking and a myriad of other issues. Our consultation responses are listed here.
Sadly, we have not been able to hold our usual physical events but we are hopeful of staging our postponed WPA Annual Dinner in June 2021 and host our landmark Annual Lunch next Autumn. Members with tickets will be contacted directly and all members will be notified of the new dates once confirmed.
In the meantime our digital programme has been hugely popular with members, with more than 1,800 unique views and listens of our various webinars and podcasts since March 2020. Our NextGen committee has also developed a strong virtual programme for the 351 NextGen members who receive dedicated NextGen communications. This curated forum of blogposts, podcasts and pre-recorded videos has benefited younger staff who may have struggled with career development and a lack of networking during lockdown.
Despite the additional scale and scope of our work during the year, and our low annual fees which range from just £1,000 to £1,750 depending on company size, we will be offering all members a 10% discount on membership renewals in 2021. Those companies which are also members of both WPA and CPA will receive an additional 10% discount. We will be issuing membership renewals in the coming weeks reflecting these reduced fees.
Thank you for your continued support and engagement with our work at WPA. We are proud to represent you and to offer opportunities for shaping Westminster's built environment as we recover from Covid-19 and look towards the future.
Olivia Harris, WPA Chair
Charles Begley, Executive Director WPA & CPA (London Property Alliance)